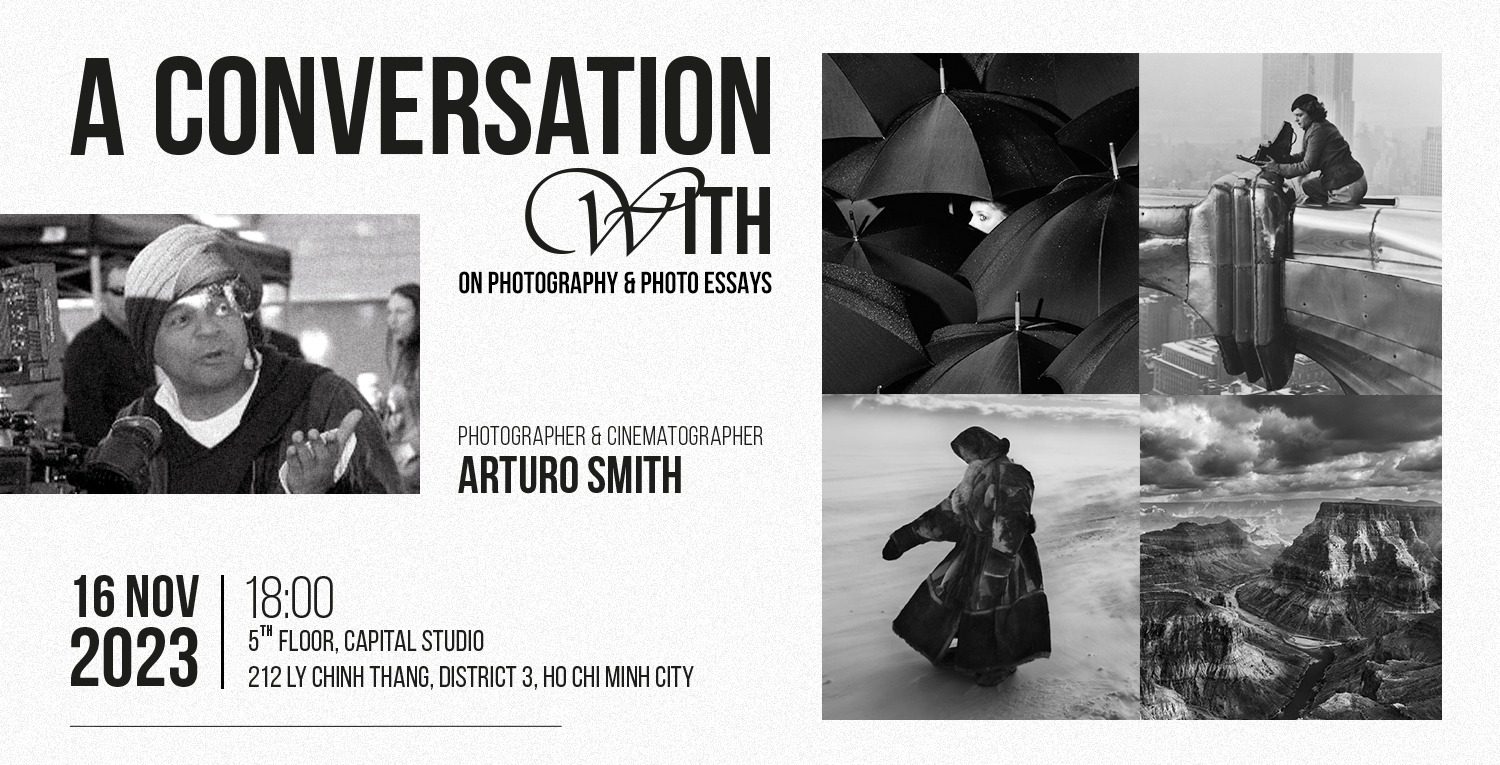 A Conversation With Arturo Smith
Thursday, 16 November
(18:00 - 19:30)
Capital Studio
212 Ly Chinh Thang, Ward 9, District 3, HCMC
They say a picture speaks a thousand words, or should tell a story. Are our photos powerful enough to capture the reader's attention and evoke emotions?
If you want to learn to tell a better story through your photos, or simply, to know what makes a photo talk, and why some photos throughout history tell great stories, and continue to do so today.
Then, please come join us for our next "A Conversation with..", and meet Arturo Smith, an accomplished photographer and cinematographer, as he shares his stories and experience on what makes a photograph tell a great story, and why photographs from the likes of Eugene Smith, Margaret Bourke Smith, Guy Boudin, … are great.
Come away from this session knowing what we need to know or be aware of, and how to tell stories through your photography, and creating photo essays. Arturo would be happy to review and comment on your photo(s), if you would like to send it to us at support@dreamspass.vn before November 15th, 2023.
This session is open to anyone of any level, who loves taking photographs either through their handphone or through a professional device, or someone who enjoys viewing fine art photography, and why they are considered works of art. Arturo will also share some of his stories of working with some of the greats in the industry, where we could learn a thing or two. This is also an opportunity to meet other like-minded people and fellow photographers from Vietnam or overseas for photography opportunities.
This session will be conducted entirely in English, and we have limited spaces available, so hurry and secure your place soonest, first come first served.
A little info about Arturo Smith:
A British-Venezuelan photographer, cinematographer, and scholar, based mostly in Berlin since 2010, but worked in the U.S.A. for twenty-five years as an international Director of Photography. He got his start as a scholar in photography, and as a photographer, before moving into cinematography. Arturo was also pioneering in the field of Experimental and Digital Cinematography with over 20 feature-length movies and hundreds of Commercials. Working with some of the best in the industry; fromSpike Jonze, Michel Gondry, Susan Streitfeld, Greg Araki, and Herb Ritts, his movies have been screened and nominated in International film festivals such as Berlin, Sundance, Venice, Montreal, Cannes, and Toronto. He has worked with celebrity artists such as Prince, Michael Jackson, and Marilyn Manson for their music videos and innumerable actors. 
In January 2019, Arturo was appointed Associate Professor of Film and TV Arts, at Xi'an Jiaotong Liverpool University.
Come and have the rare opportunity to meet this accomplished photographer and cinematographer at this event.
Arturo's works: https://mubi.com/en/cast/arturo-smith
A Conversation With Arturo Smith
Thursday, 16 November (18:00 - 19:30)
Capital Studio
212 Ly Chinh Thang, Ward 9, District 3, HCMC
View Map